Prevent Teeth Grinding with Melbourne's Best Occlusal Splints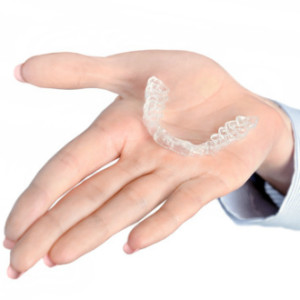 James Peter Dentist is one of Melbourne's leading specialists in preventing damage caused by teeth grinding. It is estimated that up to 40% of people suffer from some form of teeth grinding or clenching ('Bruxism').
The damage teeth suffer from excessive grinding and clenching includes wearing down the enamel and exposing sensitive and delicate parts of your teeth, cracks and fissures, and also fractured teeth and/or fillings. Damage that can be extremely painful and expensive to fix.
One of the best treatments for clenching and grinding is an occlusal splint, which is similar to mouthguards worn by sports people and can be designed and fitted by our skilled team of dentists.
Reduce the Effects of Teeth Grinding and Clenching
An occlusal splint is a smaller, stiffer version of a mouthguard that is worn at night to prevent damage to your teeth through heavy grinding and clenching. Wearing the splint will make sure your teeth are protected and may even reduce/eliminate your Bruxism in the long term. Occlusal splints are also called night splints or grinding splints.
We take scans of your upper and lower teeth which are sent to our Dental Laboratory who fabricates the occlusal splint. Your new occlusal splint is then delivered and we help to run through cleaning and care instructions, along with additional methods to help reduce the frequency and effects of teeth grinding and clenching.
Benefits of Using an Occlusal Splint
The primary benefit of wearing a mouthguard or splint at night is preventing damage to your teeth, gums, and mouth. But night splints also have many secondary benefits:
Over time it can correct teeth grinding and clenching habits

Prevents teeth grinding noise allowing partners to sleep

Reduces pain in patients' jaw from pressure of clenching

Reduces the risk of enamel wearing thin on teeth

Helps with sleeping disorders associated with clenching and grinding
How Long Will My Occlusal Splint Last?
The lifespan of splints depends on the severity of your grinding and clenching. We recommend a follow-up appointment organised with your dentist to measure the wear on your mouthguard and gain an understanding of your individual mouthguard lifespan.
Suffering from the effects of teeth grinding or clenching? Call James Peter Dentist for an appointment to discuss our different treatment options.